***THE CURE FOR WOT AILS YE!***
JUNE 12th at the HIDDEN DOOR festival
The Half Moon Medicine **Show** is a one of a kind variety show delving humorously into the themes of the day with music, poetry, comedy, clowns, dance and yes, you.
You are the most important thing to the show.
The Showcase
It's hard-working hands-in-the-earth-sister, is the The Half Moon Medicine Show'case' a distinctive weekly event at our home,  the Jazz bar, the most reputable of Edinburgh music venues.  Are you into a bit-of-gorgeous grit but also think yersel PURE CLASS?  Look no further! This is the show for you. Come be enchanted by the absolute best of Edinburgh, Glasgow and the world beyond shining on stage to a warm listening audience given the most impeccable sound and a host you could only imagine in, dare I say it....your Wildest Dreams.  A few things about this showcase make it unique. One, people of all ages can come! under 18's! Two, I perform every week in one way or another, but if you want to catch me - you have to show up at 6:15! it's Tea-time gig, and useful to grab a bite after while the soundcheck for the first of two main jazz bar bands are to perform.  Three,  It's almost always three acts, plus myself.  We enjoy Rap, folk, indie, gospel, roots...a 20 piece brass band! No one is on stage for more then 1/2 hour unless it's a special event.  So if you like to taste an array of things...this is the evening of entertainment for you!  Finally, there is *no cover* at the start of the show at 6:15 and then it's a fiver (£5!) from 6:30 to 7:45, £10 at 7:45 to 8:30.  Doesn't matter when you come in though, you are in for the night. Get a stamp and enjoy the ride.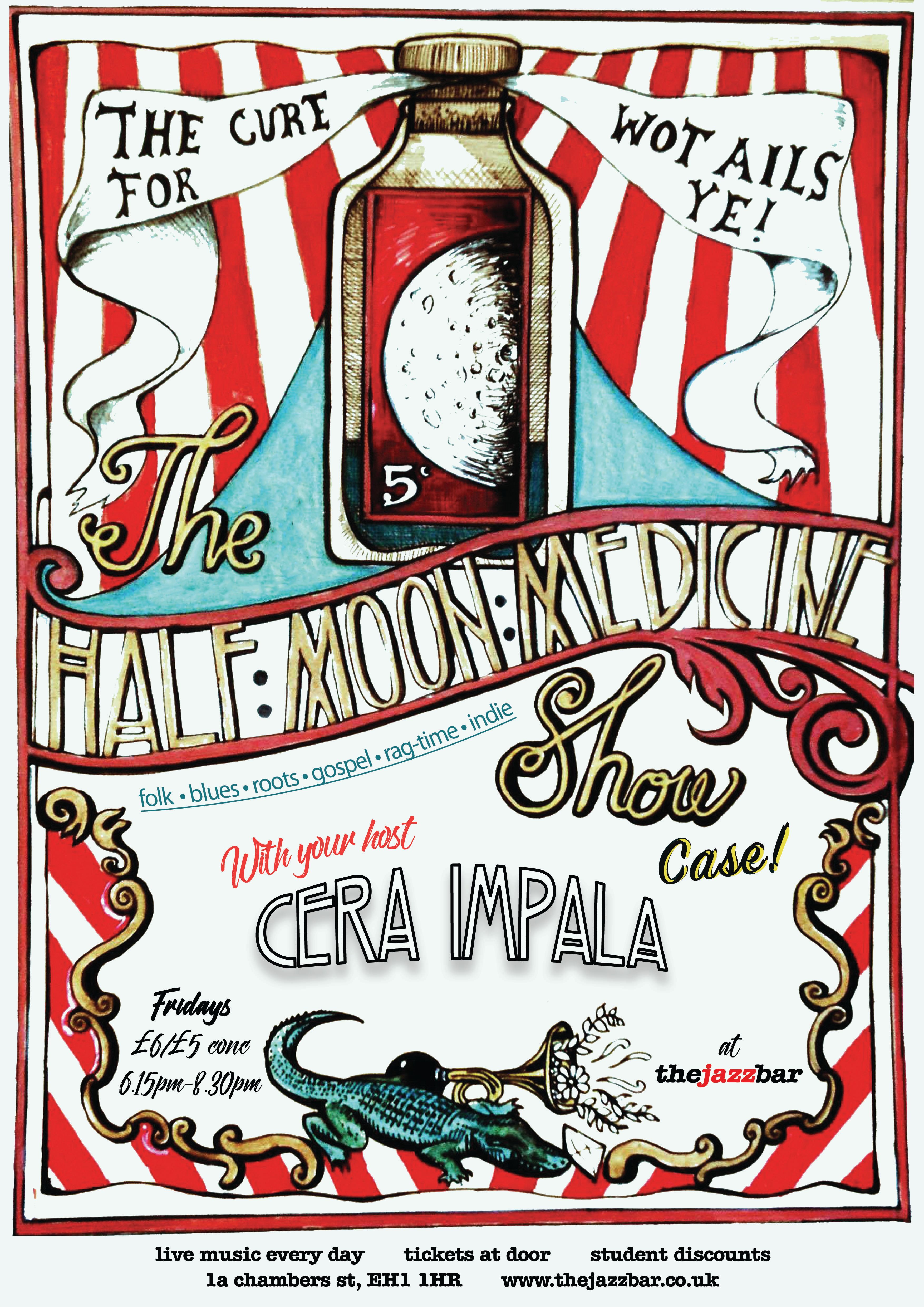 Half Moon Medicine Show(case) Artists
September 2021: 
Chris Glen, Tim and Alex, Delightful Squalor, Omar, Sam Mundy, Viper Swing
October 2021:
Caro, Ali Tod, Jack Nissan, Shea, Iona Lee, Nicole, Paul Monsterglue, Phil O shea,
Gael of honey farm, Iona of spit it out, Bee Asha, Deb Shaw
November 2021:
Breezy, Greta, Jen  of the Glencoe ('HowDo Bean') Toby Mottershead, Ben Errington, Tim Lane, Jemima Thewes, Shea, Glen the poet,
December 2021:
Maud the Moth, Greta Thompson, Tom Adams, Chris Lyons Guiffo, and Fay, Viper Swing, Tomass, Peach
January 2022:
Tom Adams, Bicycle Day, Kuche, Wise L Leathemonk,  Jordon Hepburn, Kirsty Law, Freya and co, Tomass, Delightful Squalor
February 2022:
Susanna green, Dominic Waxing lyrical, Bicycle day, Nicole smit, Jencoe (How)
Chris Lyons, Shea, Bado, Katrina and Joey, Eve Boulos Sax, Caro and Emma,
March 2022:
Maud the moth, Wise L Leathermonk, Lorraine McCauley, Ferns, Paul and Olli, Auntie Sylvia, Viper Swing, Freya, Shannee, Nick and Toby, Shea, Laura Silverstone, Ben Errington, Omar Ganawa trance fusion
April 2022:
Shunpike Social Club, Mid life Krisis, Steven Vickers, Dianna de Cabarrus, Tomass band, Isidora Bouziori, Bado, KIrsty Law, Lana (clarinet), Ewan Macintyre Smash Kafana wi Saska, Colin Bramwell (poet), "Rituala' Guilla Drummond and Eddy, Bicycle day Johnny woods, Maria Naffa
May 2022:
Jemima and Tim, Beth Myers, Ben Seal, David Luximon Herbert, Sam Mundy, Raiment band "Mono", Peach, Sharon King and Tim Dixon, Micro Band, Breezy, H
June 2022:
Honey Farm, Hailey Beavis, Dolphin Boy, Sissy thistle and Jello Belly, Maranta, Dancer, Brass blast, Nouvelle Juke box, Omar and Ganawa Trance fusion