Go ON! "B" a Sexy Beast and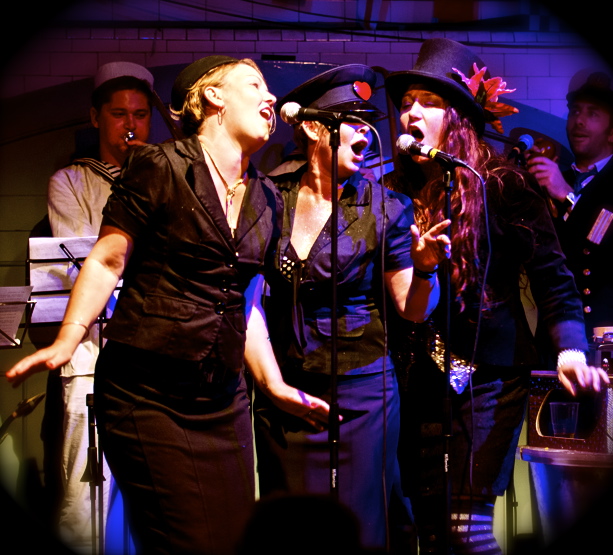 Photo by Sean Purser taken at the LoveBoat Fringe Show 2013
Life has sure handed me a lot of sweet serendipity,..or (ehem) Cera-n-dipity if you will, since arriving in Edinburgh.
The Bevvy Sisters
are high on the list of wonderful friends & collegues I have made here. As we are now making our first studio album together, I'd say we're in like Flynn. How it happened? In short, I had only a couple pals in Edinburgh over a year ago, one was
Doulgas Robertson
, who seems to know every darn acoustic musician I can think of on both sides the Atlantic!  (I'm thrilled to tell you that he and his magic house have just won Holyrood reprieve -YAY! Douglas may continue with his legendary house concerts to which we have been lucky to perform in.)  Douglas and Jane-Anne for Prime Minsters of the Arts!!  It's not just us musos who love him though,...Here's today's article from the scotsman giving them a nod for "venue of the year"
. 
http://www.scotsman.com/what-s-on/music/douglas-robertson-s-house-gets-venue-of-year-nod-1-3173219

But this is about The Bevvy Sisters!  The other person of interest that I knew here in Edinburgh was Roberta Pia, a then Bevvy sister who I had met through some pals in Berlin.  About Roberta- She's a doll, and damn good song writer  and  fronts her own band, The
Banana Sessions
. 
Who are completely dear bunch of musicians unafraid to not take life too seriously. It's inspiring stuff and it's a contagious attitude to have.  I had seen the Banana sessions but also  wanted to come to hear the reknowned Bevvy Sisters play, and having just arrived was totally skint. I knew the contact at the club as New Prohibition had played there before, so I asked to come in free (cheeky, eh?) Well, the feller was willing to comply on the condition that I open the second set with three songs of my own, and of course I did. One of the Songs I played was
"Row My Boat"
off our last album, a sexy nautical number that comes to, erm,..
full climax
. In other words, a perfect Loveboat tune. Much to my a-flattering, Heather thought it was on old jazz standard, and asked if would I play this tune at the Love Boat Fringe show with she and Gina doing backing vocals. This would be for the opening of the second set at the Queeens Hall….and of course I would!! As excited as I was, I really had no idea what an epic event it would be, the Loveboat frenzy, but jeez were they nice- and everyone so stylish! I was on of three guest performers getting to share the stage with even Amanda Fucking Palmer jet-settting in from god-knows where,.. Japan? I wore a real starfish in my hair and felt like a banjo mermaid with the lovely ladies singing sweetly with me,.. you could say we 'came' together too.
ahem
.  It was the seed that planted what has now grown into quite a thriving life-force. As they do in bands, things got topsy-turvey for The Bevvy Sisiters when beautiful Bob went off to the golden city of London town. The plan A was to truck her hill and dale to make gigs, but when things got real it seemed less and less realistic  keep the band a-float this way.   It was time for
Plan B.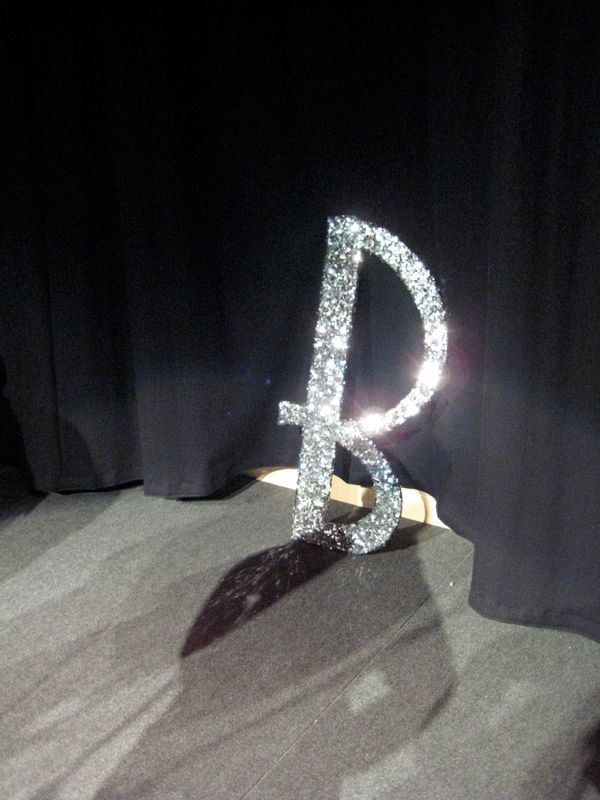 Who's Shadow is that on THE BEVVY B??
**Highlands and Islands tour in MAY 2013**
I was of course quite tickled to be invited to Bevvy-fy my life,…. and oh boy, how my wardrobes sequin collection has grown since joining the band, I really can't begin to tell you. (At least now I have an excuse!) 
Being in a band, it's not any normal job,....it's a bit like dating three other people and, by the time you make and album together, that's when you've said,  "I do".
  In my other band, the New Prohibition, I really did marry my bandmate. (in fact, we've been in a band together so long we have a five year old son) but I'm happy to say, there's no danger of procreation with the Bevvy Sisters, which is a relief. 
The Bevvy Sisters back stage after an "Electro-Bevvy" gig at the fabulous INSIDER FESTIVAL
In the month of September we traveled out to the Borders to record at the Heriot Toune studio with
Mattie Foulds
, a truley thoughtful engineer and musician (who clearly must have the patience of a saint to deal with the likes of us) He's got a keen ear for detail, but also knows when you've taken it too far,... and how to tackfully tell you that you probably shouldn't be listening,..you need a break.  I've was impressed with the space itself to boot. 
The valley the studio looks out onto gives your heart-cave 10 minutes to replenish,.. that might take an hour at home.
It's hard to express how important and necessary this is to have when recording 14 tracks in four days.  It's paradise, and the weather has been unreal.  But yo!  Nevertheless It's been intense folks,  and we've done the bulk of it.  The sequin sparkely light is shining at the end of the tired-tunnel exciting all four of us equally, and bringing us together like never before.  Nothing like studio time to show you what people are made of,.. and I'd say we're a pretty hearty soulful bunch.  Demus (more formally known as "David Donnelly") has proven very valuable throughout and shown a great deal of know-how and ease in the studio.  He's got ideas and executes them before I can tune my banjo (but hey, it's a banjo.)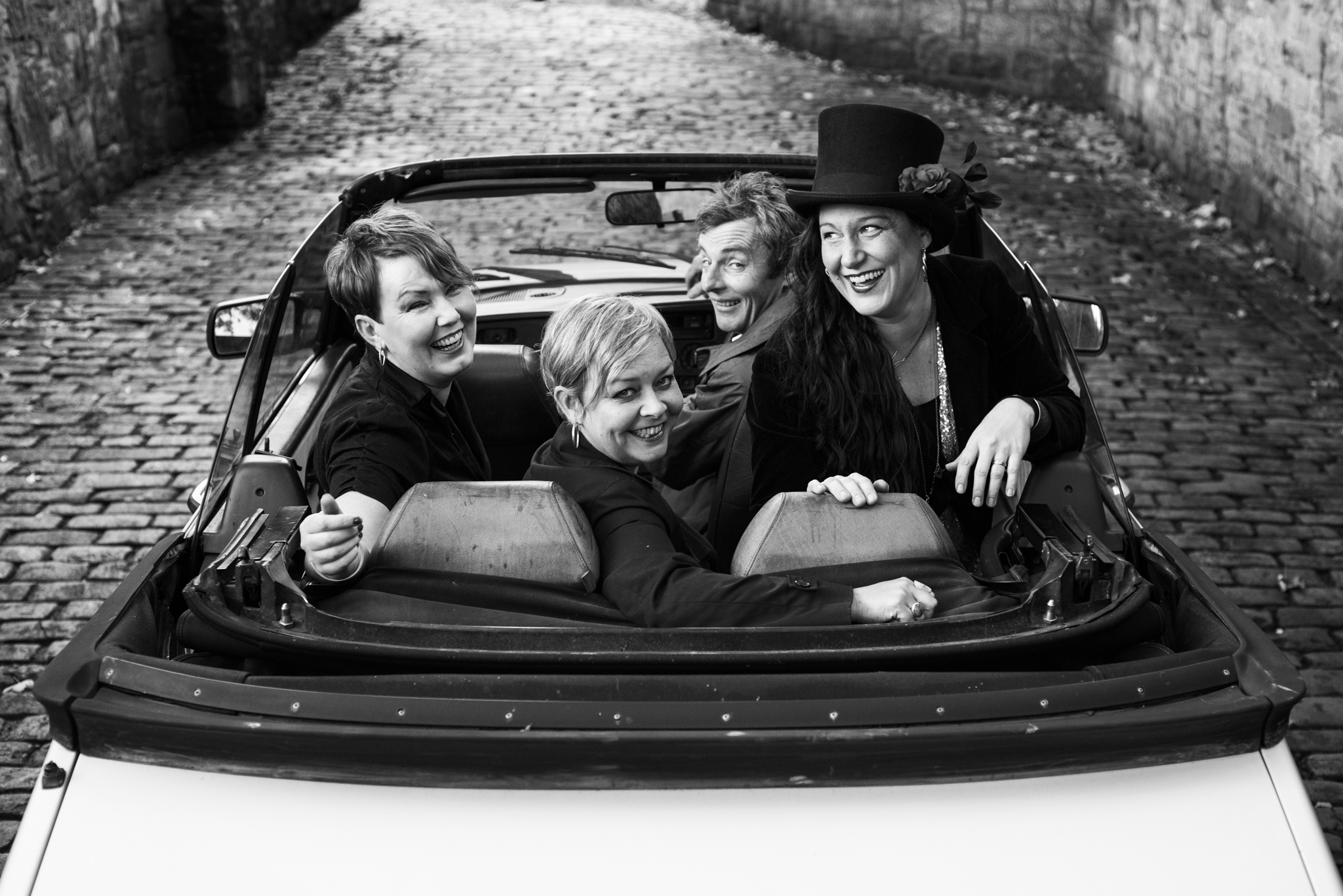 The ladies have remained positive, supportive and even though Gina threatens to kill me when I slurp my slippery elm (yeah, it's a thing)  I live on,.. WE live on!... and the album itself it's a
cracker.
  It's Mastered by the Master producer himself Tom Bancroft who is full of valuable insights,.. and is genuinely behind us every step of the way. The Album has got loads of the good stuff that Bevvy fans are going to dive into head first.  There is so much in it for our fans.  AS we wind into the home stretch and finish up the last bits and bobs, artwork and pressing, I can't help but feel like we've really accomplished something wonderful. Folks like to complain about the state of music these days, but we live in rare times! It really is exciting in this day-in-age how connected we are to the people that
listen to and support
our music.  Our fans will make this abum happen, and we owe it to them to make it 'B' great.  With Mz Heather, Gina Rae, and Demus I feel I have a new musical family of sorts.  There's always a
Plan B
and sometimes,.. it's the best one.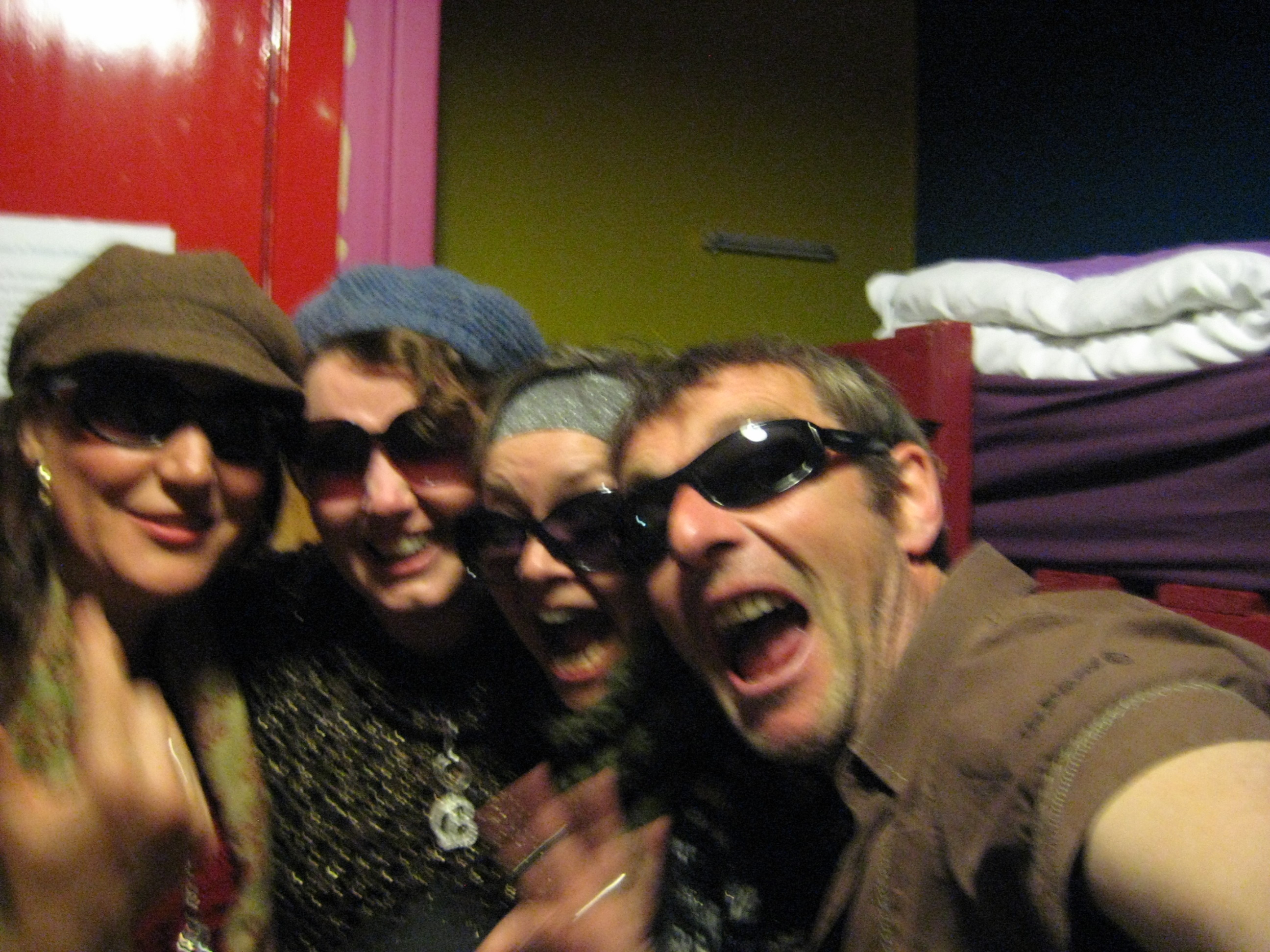 Where was this hostel?  Somewhere in the Skye! You can tell we don't have any fun at all.